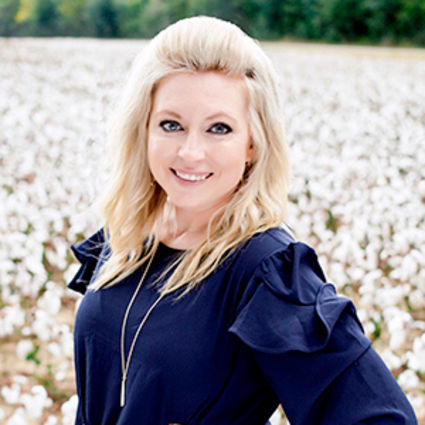 Amanda Cutrer
REALTOR® | License #S-55204
A little about me
and why I love real estate
Hey y'all! My name is Amanda Cutrer and I am a Mississippi REALTOR®. I was born and raised in this great state and have been a life-long resident. I can honestly say, I wouldn't want it any other way. There is just something about growing up in "The Magnolia State." I don't know if it's southern traditions like sitting on a porch swing, drinking ice cold sweet tea, or the fact that no matter where you go in this state you always find that small town hospitality.
I like to think of myself as a problem solver mixed with a little bit of southern charm. No matter which side of the transaction you're on or what your motivation may be, my focus is always the same, helping you succeed in the world of real estate. With a background in business and marketing, I'm always eager to invest my efforts in helping others achieve their goals. Buying and selling is exciting and life changing, and I love being a part of it all! My goal is to help make the process simple and fun. My enthusiasm for helping others helps me build strong relationships with my clients by listening to their needs and working diligently on their behalf.
I cannot express how happy it makes me feel to see the joy it brings others when they accomplish what they set out to do. And it cannot go without saying, one of the most exciting experiences for me is helping someone call Mississippi home!
Listings you'll love
with the expert advice you deserve
Our clients are awesome
and here is what they are saying
"Working with Amanda was a great experience from start to finish. We told her what we were looking for in a house and she delivered within a month. She was always available when I call and very attentive to details. Highly recommend Amanda to anyone interested in either buying or selling a home. She is great."
John Reilman
Perkinston home buyer
"Working with Amanda was a rewarding and pleasant experience. She listened to our needs and brought only properties that fit our profile. Throughout the process she was very professional and attentive to my many questions. I would not hesitate to recommend Amanda as either a buyer's or seller's agent. Five star performer across the board."
"Amanda was so easy to work with, very responsive and personable. She made everything so easy to seal the deal on our dream. I will definitely use her again any chance I get!!"
Anna Jenkins
Poplarville, MS
"Very PLEASANT, ALWAYS THERE when you need her with no single excuse. She goes above and beyond to help us shop and get familiar with every place as she knows the area very well. Looking forward to do business with her again."
Douglas
Lumberton, MS Home Buyer
"This young Lady was Awesome! She put her heart and energy in finding me the home I was looking for. I will always be very grateful to her for her concern to satisfy me with what I was looking for. She Was Amazing. God Bless Her."
Peggy Marble
Polarville, MS Home Buyer
"Amanda is great!!! Highly recommend her. She is on her game and always ready to show you a house! Promptly responds to your call or text! She also has a wonderful personality to work with! She is the realtor you want!"
Alicia Lanier
Picayune, MS Home Buyer
"We enjoyed having Amanda as our realtor in selling our home! She is a hard worker and very determined to get any job done and do it with such expertise. Amanda communicated well with us and kept us up to date on any changes, etc that were made. We are even using Amanda for our realtor in buying our next home!"
Nikki Breland
Bought and sold a home in 2020 in Poplarville, MS.