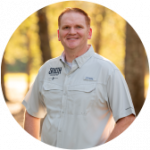 Joe Brumfield
REALTOR® | License #S-57228
A little about me
I'm Joe Brumfield, REALTOR® with South and Company Properties. I am a husband, father of three, and an 18 year active Army veteran. My family and I have relocated about ten times, living from Hawaii to North Carolina and many places in between. We certainly appreciate what if feels like to move and the challenges you can expect when buying or selling a home.
I enjoy hunting and fishing with my kids and working in the outdoors on our property. I try to maintain an active lifestyle. Running, biking, lifting weights, and shooting in preparations for SWAT competitions with army buddies against some of the best departments in the State.
Why I enjoy real estate
Real estate is the people business, the trust business. Getting to help those who are trusting me with what is often their largest asset is a tremendous responsibility. The kind of responsibility that gives me purpose worth waking up and getting after it every day for them. I am happiest when I am engaged as a member of a team working together to achieve a common objective. Serving as a REALTOR® gives me the opportunity help people accomplish their goals and work to fix the issues that are sure to come up along the way. Just as I have my entire adult life in the military.
Education and experience
US Army First Sergeant
American Military University, Bachelors in Psychology
Airborne Ranger
Three-time Iraq Freedom veteran
Operation Unified Response (Haiti) disaster relief
Our clients are awesome
"I feel like we could not have chosen a better agency to work with than South & Company. Joe Brumfiel
…
Read More
d has a unique ability in making an incredibly stressful and often confusing process like buying a home very simple and easy. We experienced exactly zero pressure to purchase and every recommendation Joe gave us worked out perfectly. His recommendations got us a fantastic deal on a really wonderful home and property even though that meant less personal gain for him. We don't have words to properly express our appreciation for his professionalism, knowledge, and effort but we strongly recommend working with Joe and finding out for yourself."
Read Less
"I cannot recommend Joe highly enough. Not only did he make both sides of process transparent while g
…
Read More
iving much needed and on point advice but, as it turns out, he also willingly forgoes a higher commission in favor of a better matched home and buyer. He also negotiated for us an unreasonably great deal! For a great story, ask him about the best left-behind item he has so far seen."
Read Less
"Emily Griner is a God send and hard working agent. She will take care of you 100%."
"I have to tell you how much of a pleasure it was to have Joe Brumfield helping me to accomplish my f
…
Read More
irst home purchase. Joe, Jessica, Mike, and for sure the team behind the scenes have just been an absolute blessing. Thank you so much South & Co Properties for caring about people first and always going the distance. It is such a relief to feel cared for on such a major life step."
Read Less
"Mike Mitchell and Ashlin Grant did an incredible job listing and marketing our home and acreage loca
…
Read More
ted in Petal. Their creative ideas for video footage and photos of our property, as well as their promotion of our home on social media, led to a contract within 48 hours. They also helped us through all of the paperwork and made selling our home such an easy process. We would highly recommend South and Company for all of your real estate needs."
Read Less
"Ashlin recently helped us find a home to purchase in Hattiesburg and she earned every cent of her co
…
Read More
mmission! With so few homes on the market, she had to search to try to find people that were willing to sell their home. She showed us several homes and was extremely patient with us. She answered our many questions snd was willing to help us in any way. We were very pleased with Ashlin and South and Company! 😊😊"
Read Less
"Our experience with South and Co. has been outstanding. Jessica assisted us with buying our new hom
…
Read More
e and selling our old one, and we are so happy that we partnered with her and South and Co. for both endeavors. Jessica and the rest of her team at South and Co. are extremely knowledgeable in all aspects of real estate. They guided us through the whole process as both buyers and sellers, and were easily able to answer any questions we had along the way. Most importantly, they were so warm and friendly and genuinely cared about our goals and needs - it was like partnering with close friends or family. We highly recommend for anyone who is interested in buying or selling a home or land to partner with South and Co. and see what they can do for you! We believe that you will be every bit as satisfied with your experience as we were with ours. Thanks again, Jessica, Mike, and everyone at South and Co., for making our buying/selling experience so great!"
Read Less