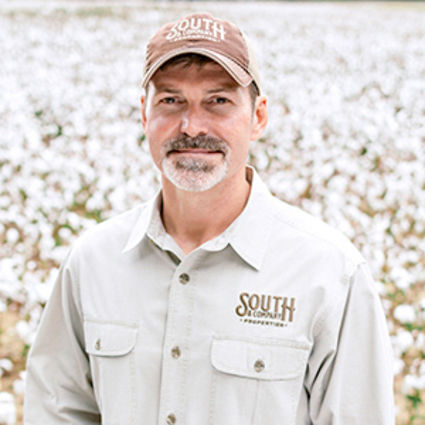 Mike Mitchell
REALTOR®, Principal Broker | License #B-22274
A little about me
and why I love real estate
A little about me
Hello there! Mike Mitchell here, REALTOR® and Principal Broker with South and Company Properties. I'm a God-fearing man, husband, father, and veteran of little league ball games, show choir performances, and beauty pageants.
My hobbies and time away from work are a direct compliment to my career as a land professional. I spend a lot of time on my farm and in the woods while filming and photographing wildlife, raising a garden, making improvements to the land, and anything that involves a tractor, chainsaw, and a good fire.
My love for the outdoors goes back to my childhood of running lines on the river and trying to keep up with my Papaw and big brother while chasing deer, squirrels, and rabbits through the Pascagoula River bottoms and the piney woods of south Mississippi. I still love to deer hunt and have recently found myself addicted to quack with a growing passion for duck hunting. There is something about calling them in and watching my Yellow Lab, Drake work the retrieves. Although big bucks and greenhead ducks get me fired up, my greatest enjoyment in the outdoors is spending time with my son, Riley where we experience memories that will last a lifetime.
Why I love real estate
Real estate is a second career for me. Before diving in as a profession, I invested in land as a means of retirement savings while traveling throughout the southeastern United States providing network design, consulting, and engineering services in the Telecommunications industry. Truth be told, the land investments turned to hobby where the hands-on improvements became my pastime. The pastime turned to passion and now passion to licensed profession where I am truly blessed to enjoy a successful career in real estate with a great team of folks here at South and Company Properties!
So that is me in short
You can get to know me a little better through Facebook and Instagram. I hope you find that we share some common ground and that I am the perfect fit to assist you and your family with all your real estate needs. When you finish snooping me on social media, please know there is a personal invite waiting. Texts are great, but I would genuinely love to meet you. Pick up the phone and give me a call, so I can get to work for you!
Memberships & Affiliations
Education
Petal High School
Jones County Junior College
Mississippi State University
University of Southern Mississippi, B. S. in Engineering Technology – Telecommunications
Listings you'll love
with the expert advice you deserve
Our clients are awesome
and here is what they are saying
"Mike, Thanks again for everything. I have been very pleased with my experience with South and Company, and I greatly appreciate your efforts to make everything go as smoothly as it did for Jennifer and me. Thank you again, so very much. May you and yours have a very blessed and prosperous 2022 and beyond. Sincerely, Chris Nickell"
Chris Nickell
Buyer: Petal, MS
"My wife and I were very pleased with South & Company Properties. When we were looking at making a land purchase but had no idea where to start, Mike was very helpful and walked us through the process, made it much less stressful, he tended to us and made time for us with the smallest of details. Even up until the closing date, he kept in touch and made sure everything was to our liking and understanding. He made recommendations for any/all areas we might would need. Between South and Company & our lender, they made it a seamless transition for an otherwise "scary and complicated" ordeal. I have and will continue to recommend South and Company to others, very professional, and hopefully in the future we will be able to conduct business with them again."
John Holifield
Jones County Land Buyer
"My wife and I bought a home through South and Company. With buying a home, it can be very stressful but the people with South and Company were so helpful and accommodating that it turned out to be a very nice experience. The knowledge and openness made us feel confident in our transaction. Also, there was never any pressure to purchase indicating to me that they were as much concerned about you being happy with your decision as closing the deal. They earn an A+ report."
Frankie Yates
Hattiesburg, MS Home Buyer
"Michael is "Top of the Line" in my books. My family (Daughdrill Farms) had 400 acres for sale in Jefferson Davis County, and Michael worked like it was his property he was selling. This man goes above and beyond the call to take care of his clients. I highly recommend him if you are in the market to buy or if you're selling. GREAT JOB."
Dyle Daughdrill
Former Jefferson Davis County Land Owner
"This has to be said. This realtor is certainly the best you can ask for. Michael Mitchell acts like the property is his very own. He is careful, thorough and knowledgeable. He finds the right buyer if he is working for the seller. If he is representing the buyer, he is watching out for your best interest. If he represents both, he makes sure everyone is treated fairly and again like it is his property. Michael is professional and patient as well. In my case he was working with 5 Sellers. There was never a bump in the road. He works hard and you can tell he truly loves what he does. His customers mean a lot to him. If you want someone who will work hard for you and truly care about you and your property, he is the one to call. Thank you for all you have done for me and my family. This could have been a very daunting experience but you made it easy. God bless you and your family."
Danelle Daughdrill
Former Jefferson Davis County Land Owner
"Ol Magic! My co-listin brother from another mother!"
"Michael helped us from day 1! Fast acting and professional! Always stayed in contact and made our selling process effortless and simple!"
Zach Crowley
Former Carroll County Land Owner
"Michael Mitchell is a stand up guy very honest and helpful. I'm very satisfied with everything he has done for me and my father couldn't ask for a better experience!!! Will recommend him to anyone I know look for property in Mississippi!!! Thanks again Mike for all your help and hard work.."
Nelly N Jerry Cortez
Simpson County Land Buyer
"Me and my husband have been looking for land, during the process we met Michael. He walked us through every step of the way and made the whole process very easy! If you are looking for a land agent, he is great!!"
Jessica Brown Rutland
Lamar County Land Buyer
"My wife and I met Michael in march and signed contract on a Wednesday. He listed it and on Saturday and we went the act of sale in 45 days. Great man and great real estate agent."
Rusty Yates
Former Jefferson Davis County Land Owner